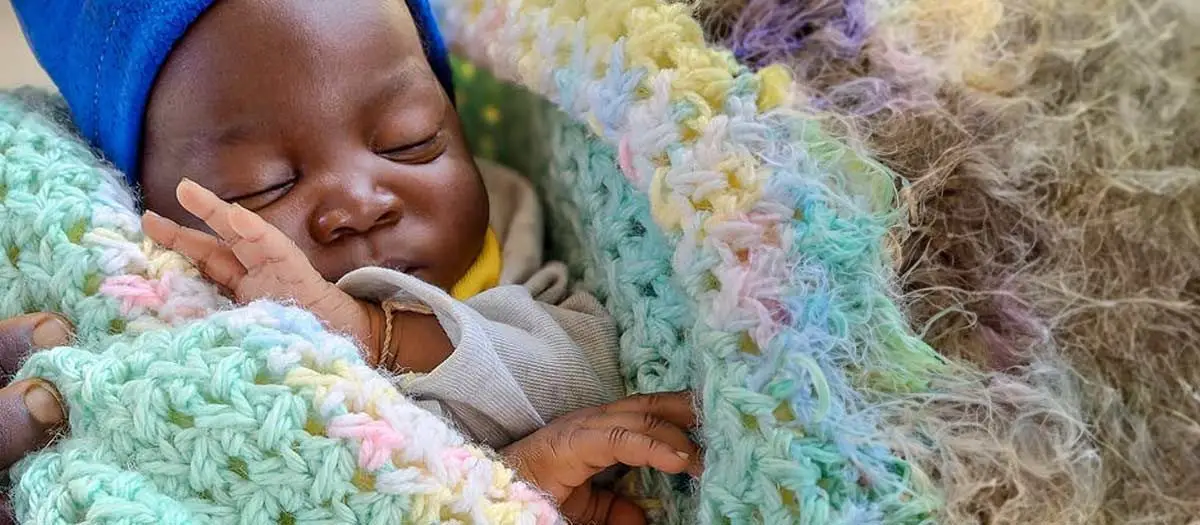 Stitching Together Strength: A Day with Knit For Kids in Zambia
by Field Staff on
August 7, 2023
In the heart of Zambia, where the morning sun bathes the landscapes in a warm, golden light, a tale of resilience and warmth emerges. Amidst fields of maize and traditional brick houses, a beacon of hope and care stands tall – the Kanchomba Rural Health Center. It's here, within its humble walls, that the transformative work of Knit For Kids reveals itself..
The Kanchomba Rural Health Center, despite its limitations, serves as a lifeline for over 6000 people. The dedicated team of five nurses, one midwife, one clinical officer, and one environmental health officer works tirelessly, helping individuals combat common issues such as upper respiratory tract infections, trauma, and diarrhea.
Within this supportive environment, Hilda, a mother of seven including newborn twins Charles and Farnwell (pictured below, bottom), finds some relief. Despite her challenging circumstances, living within a polygamous family and having to supplement her underweight, preterm twins' diet with goat's milk, she sees her children's health improve. Her resilience is reinforced by the tangible warmth of Knit For Kids' blankets and beanies, cushioning her and her family against the harsh realities of life.

In another corner of this vibrant country lives 16-year-old Felistus lives with her child Lorenz (pictured above in the blue beanie). Although she yearns for an education, her dreams are thwarted by a lack of income and support. Despite these struggles, a Knit For Kids blanket, carefully crafted by a distant stranger, brings a small comfort to her challenging existence.
As the Zambian sky gives way to a blanket of stars, the profound impact of Knit For Kids resonates through the community. The power of each stitch, each blanket, and each beanie, has been woven into the stories of Hilda and Felistus, changing lives with every thread.
Every item created by Knit For Kids symbolizes more than just a piece of clothing. It's a promise of hope, a beacon of strength, a tangible sign of a global community's support. Each stitch, each thread, and each woolen strand stands for a collective determination to ensure a brighter, warmer future.
You can be a part of this remarkable narrative. By knitting a beanie or a blanket, you can reach across continents, providing comfort, warmth, and hope to a child in Zambia. Each stitch you knit is another step towards a future full of hope, resilience, and warmth.
back