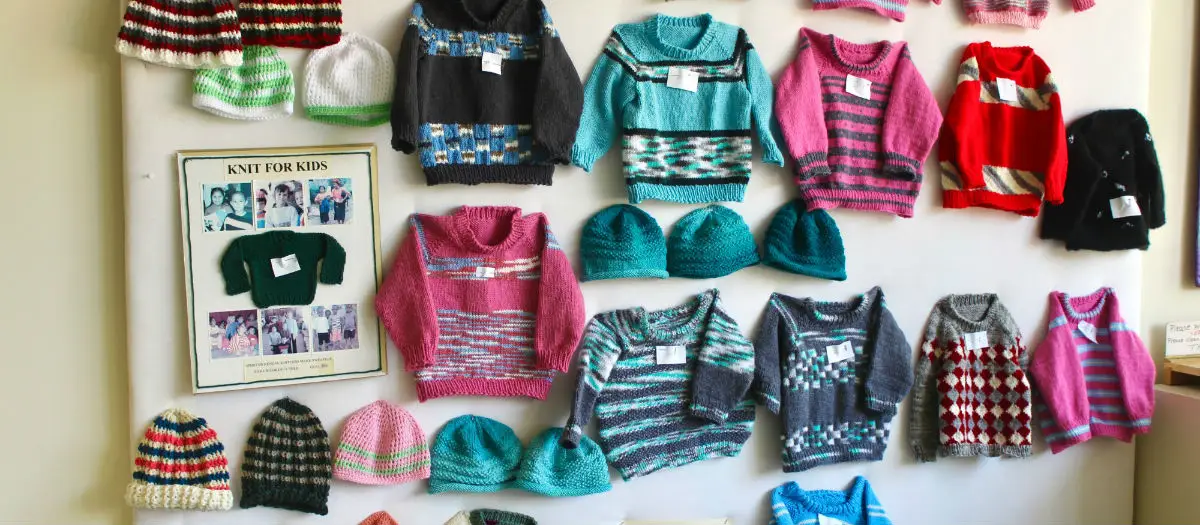 Needles Clatter as Knitters Create for Children in Need
March 11, 2020
You'll hear the sound of knitting needles coming from the Craft Room at Kendal at Ithaca (KAI) – a continuing care facility located in New York's Finger Lakes region. Each Tuesday afternoon its volunteer knitters are busy producing knitted items sweaters for children across the country and around the world. It's a year-round activity for a small group of dedicated residents who use some of their leisure time to produce sweaters for youngsters in families who need help.
They report that while the sweater pattern or configuration generally follows a prescribed recipe, the colors and decorations are a celebration of creative free-style artistry and make-do with what's available. Most of the time, the yarns are purchased and charitably donated by the individual knitters, but they gladly accept donations of yarn to incorporate with their own.
A history of production
To date and as pictured, the scoreboard showed that more than 2,400 sweaters have been hand knitted and shipped to charitable outlets. In addition to this past year's sweater output (100+) they also produced knit caps of varying sizes, too numerous to count.
The sweater project began in 2003 when resident June Nafis spotted a request in Guideposts magazine for child-size sweaters for distribution worldwide, including the US, to refugees, families in poverty, those in the wake of natural disasters and like circumstances. June organized a group of Kendal knitters that has been continued ever since
Periodically, when the display board nears capacity, they are carefully placed into a large carton, and the assorted sweaters, caps and blankets are shipped to World Vision in Sewickley, PA, where they are combined with hundreds of others for providing care and comfort throughout the world.
back